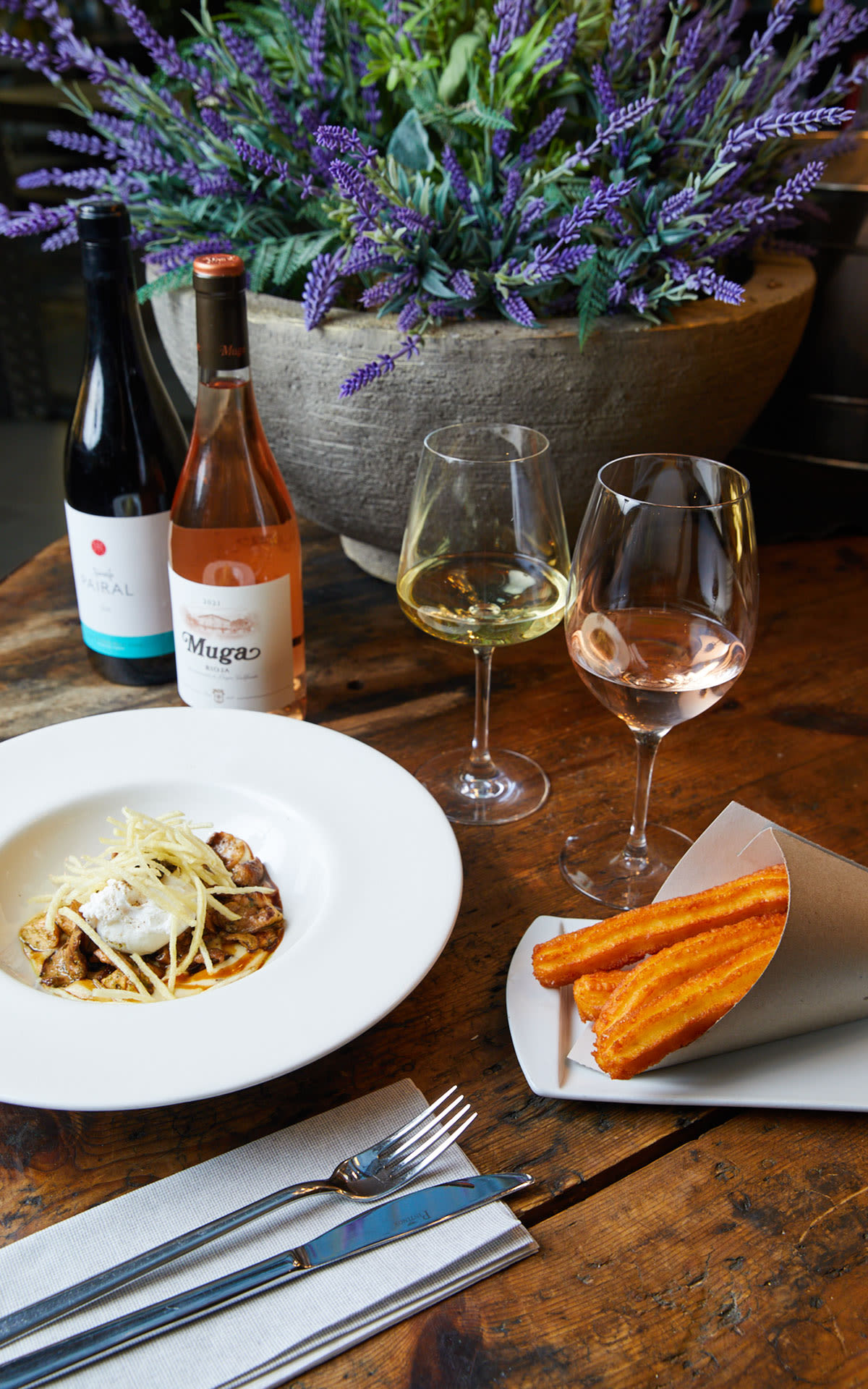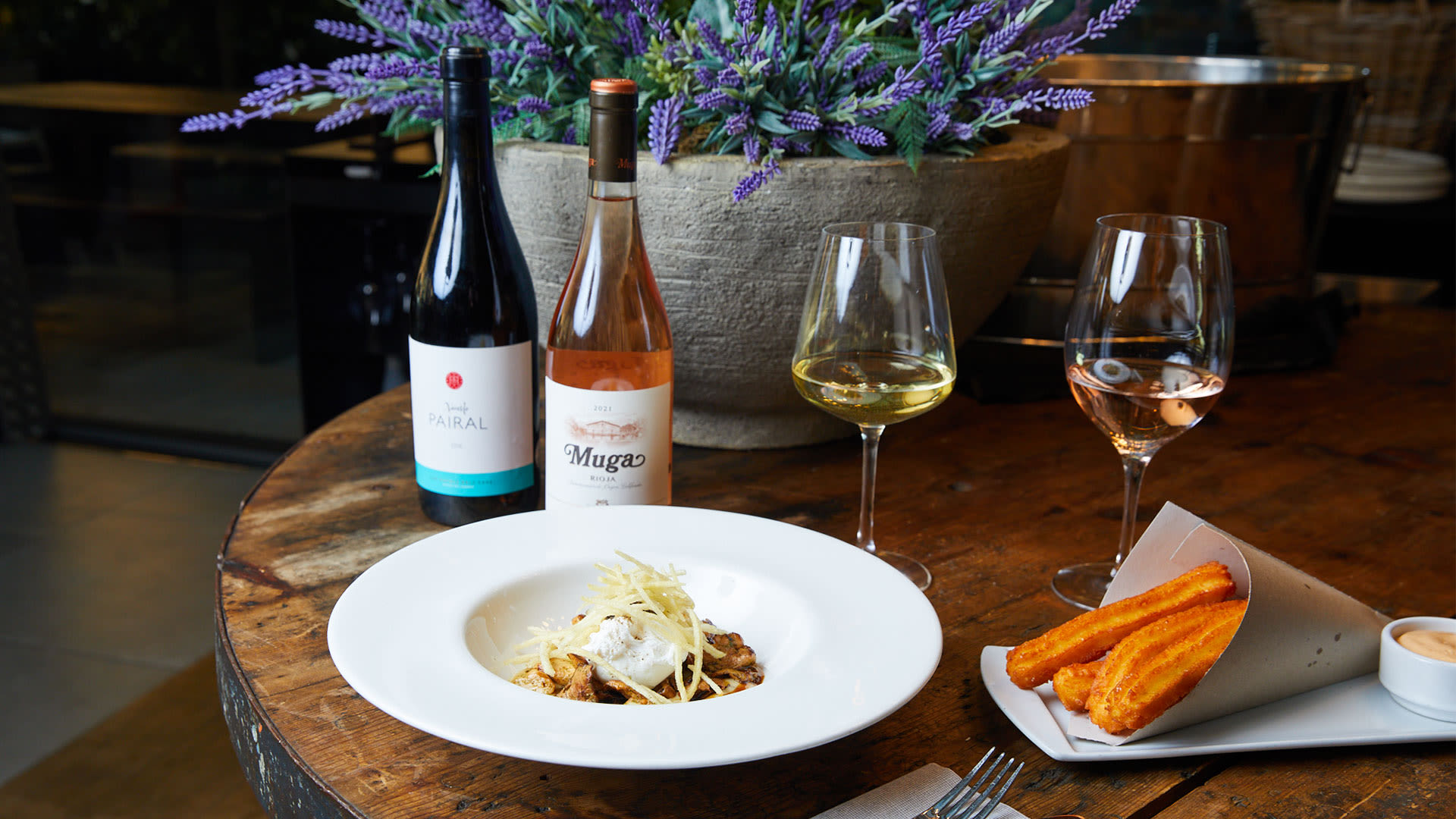 An expert's guide to the perfect food and beverage pairings, by Meritxell Falgueras
Netflix and chill, sea salt and chocolate, t-shirt and jeans; complementary pairings universally acknowledged for their greatness. But, when it comes to satiating our appetite and coupling food and beverage, we don't mess around.
That's why we turned to famed Spanish sommelier, author, and journalist, Meritxell Falgueras. From wine to sake, kombucha to matcha, the Cátame author knows how to curate a delicious match, suitable for every palate. And so, we tasked her with touring La Roca Village's restaurants to find the perfect food and drink pairings to accompany your every meal and mood.
01
A decadent and flavourful partnership at Pasarela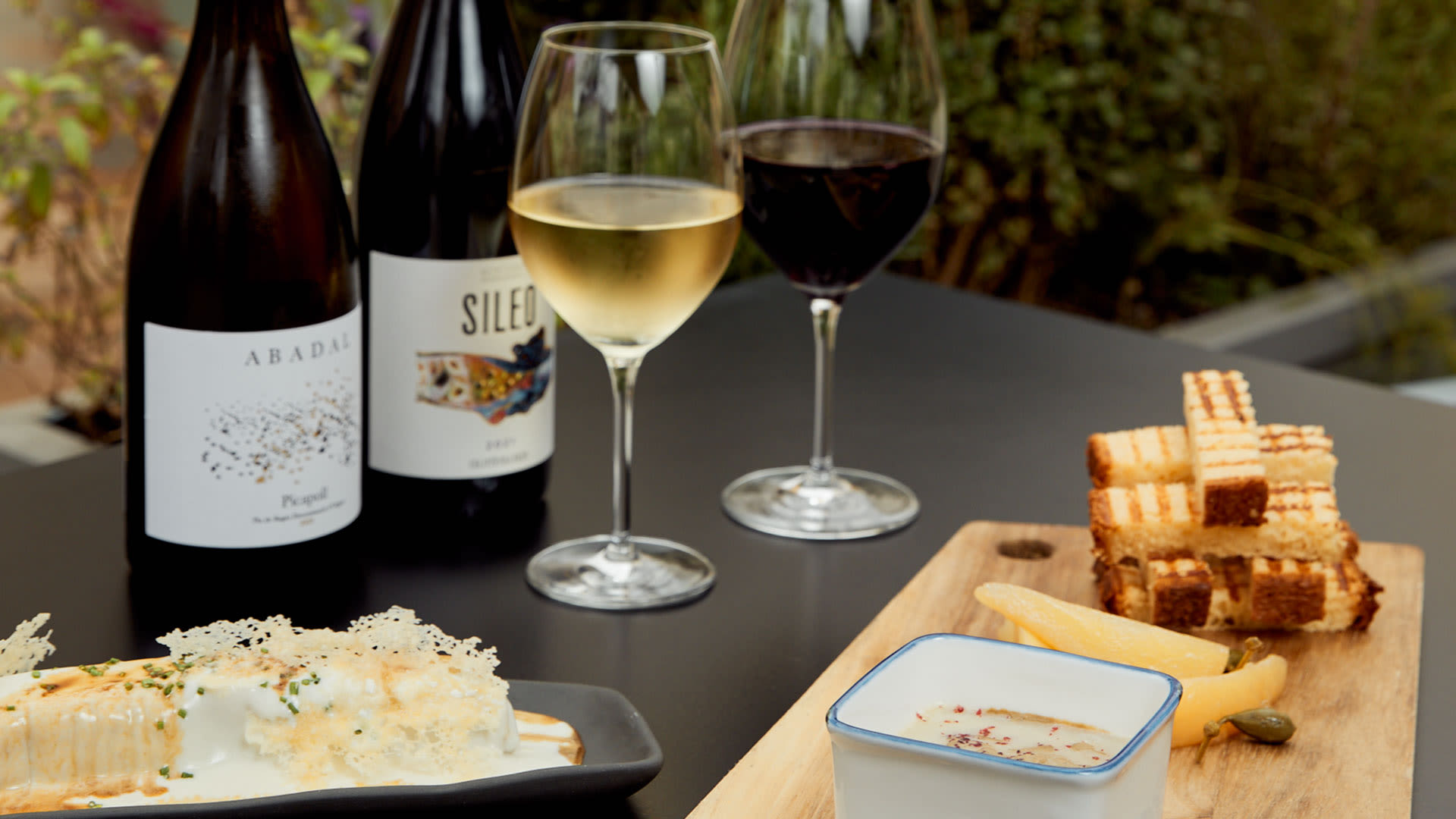 Soleo red wine paired with free-range chicken, foie and truffle cannelloni

This is Pasarela's pre-Socratic pairing of "like loves like," Falgueras explains. The Mediterranean nature of the grenache from the DO Montsant matches the same delicious intensity of the ingredients in the cannelloni.
Abadall Picapoll white wine paired with a pâte and pear confit and brioche bread

The Picapoll grape is a Catalonian variety known for its refreshing acidity and versatile aroma. The wine (DO Pla de Bages), which is aged carefully in yeast, complements the buttery texture of the brioche bread, while the subtle richness of the pâte and pear confit makes for a satisfying sensory experience when combined together.
02
An exquisite uniqueness at Atmósferas Mordisco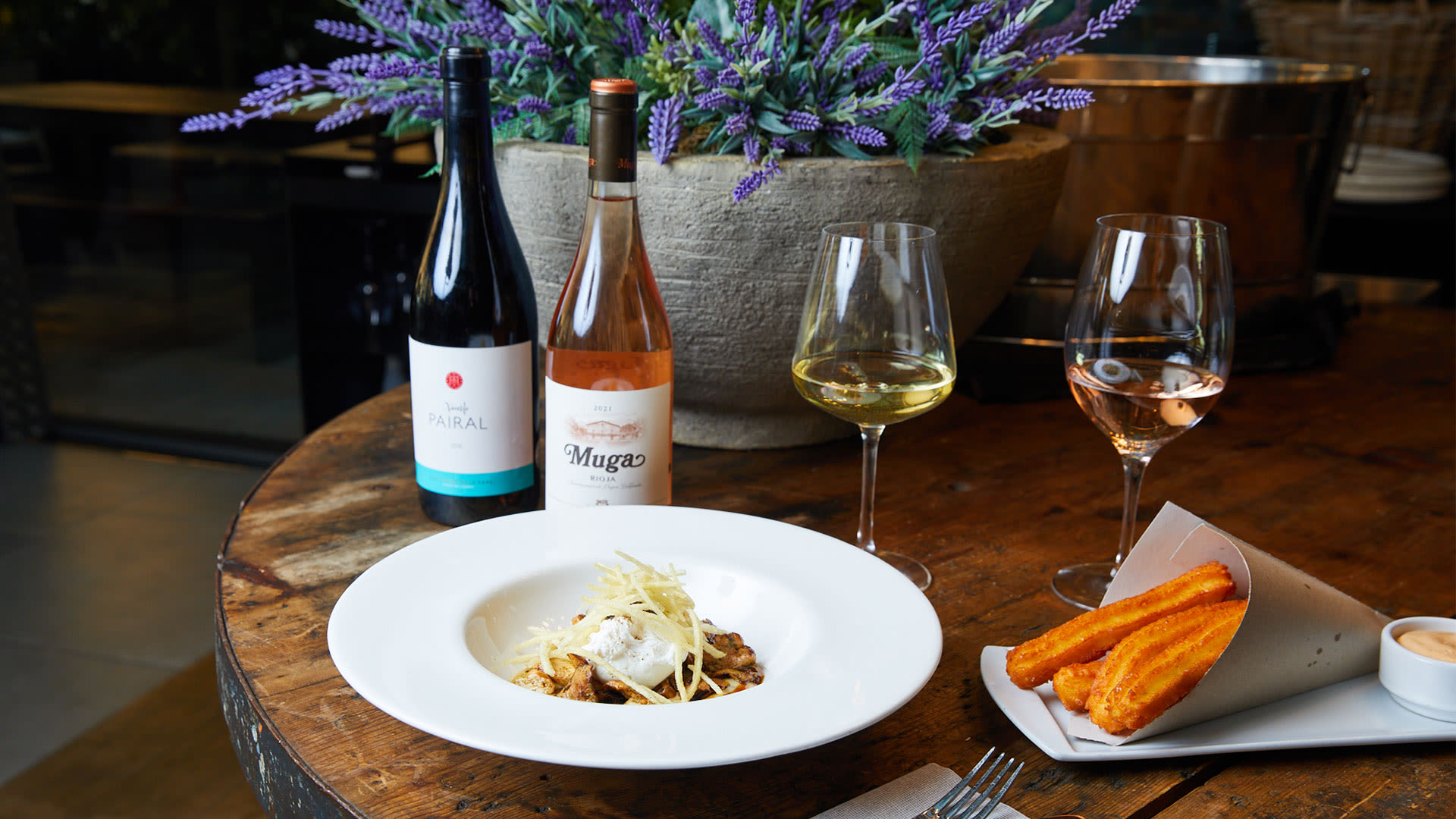 Muga Rosée paired with Churros Bravos

This rosé from Rioja is as unique and delicious as its dish pairing from Atmósferas Mordisco. According to the Wines and the City blogger, only something like a Tempranillo white could match this perfect pairing.
Pairal Can Rafols dels Caus paired with sautéed truffle bites

Derived from 65-year-old vines, the Xarel·lo grape has "a richer, sharper taste" than its regional counterparts. The wine is also fermented for four months in chestnut barrels, so it pairs really well with the textures in this dish, Falgueras explains.
03
A light refresh at Andreu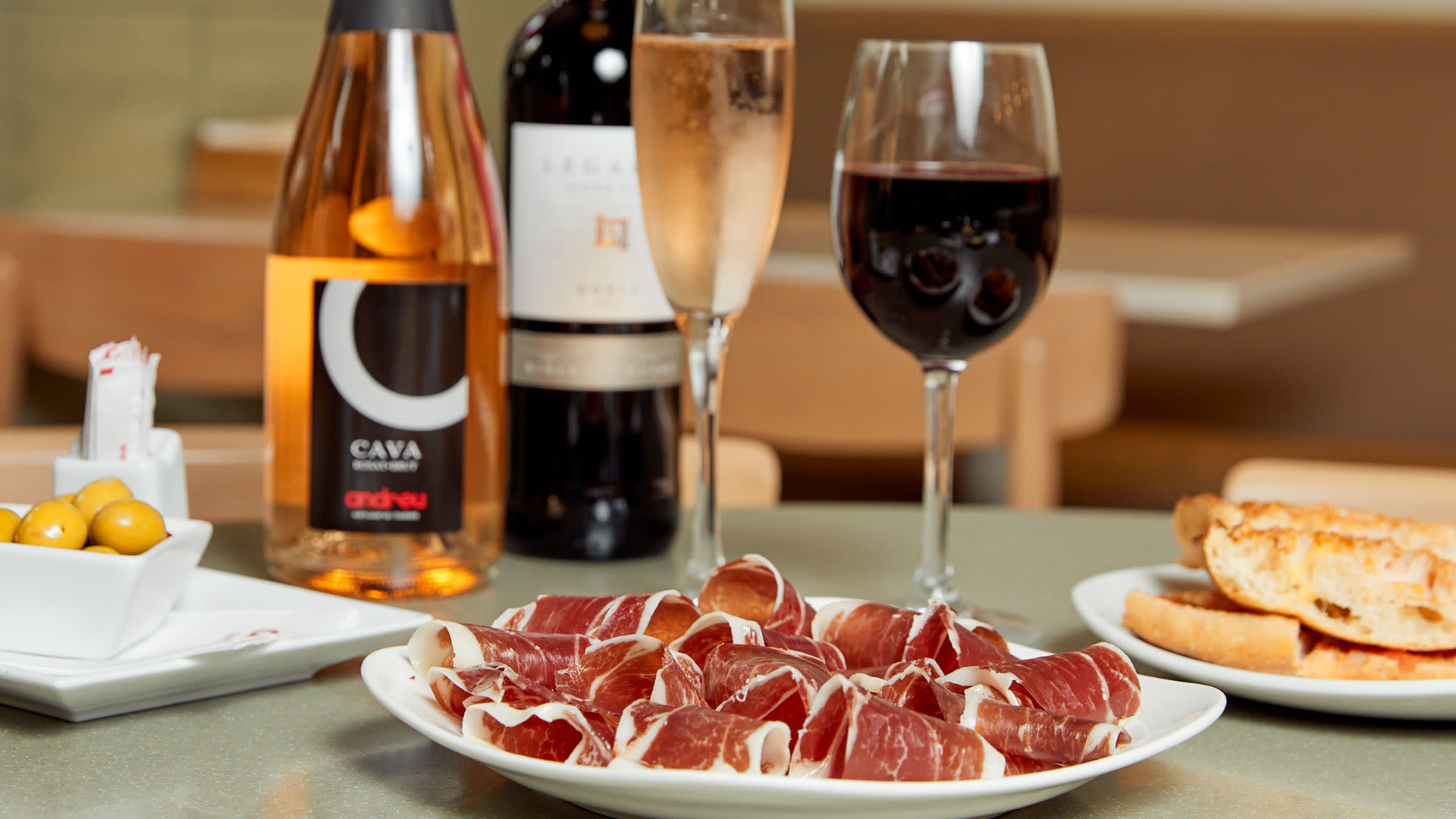 Andreu's own Cava Rosado paired with Grandfather Andreu's spicy olives

To tastefully balance the spiciness of these famous olives from Andreu, Falgueras suggests pairing them with the Trepat cava - its vibrant acidity makes for a deliciously flavourful match.
Llegaris red wine paired with Iberian ham shoulder

Nothing beats a sumptuous piece of Iberian ham shoulder. That is, until it's paired with the perfect wine. According to Falgueras, "the fat from the ham shoulder is beautifully contrasted by the acidity of the Ribera del Duero wine."
04
A sensory awakening at Corso Iluzione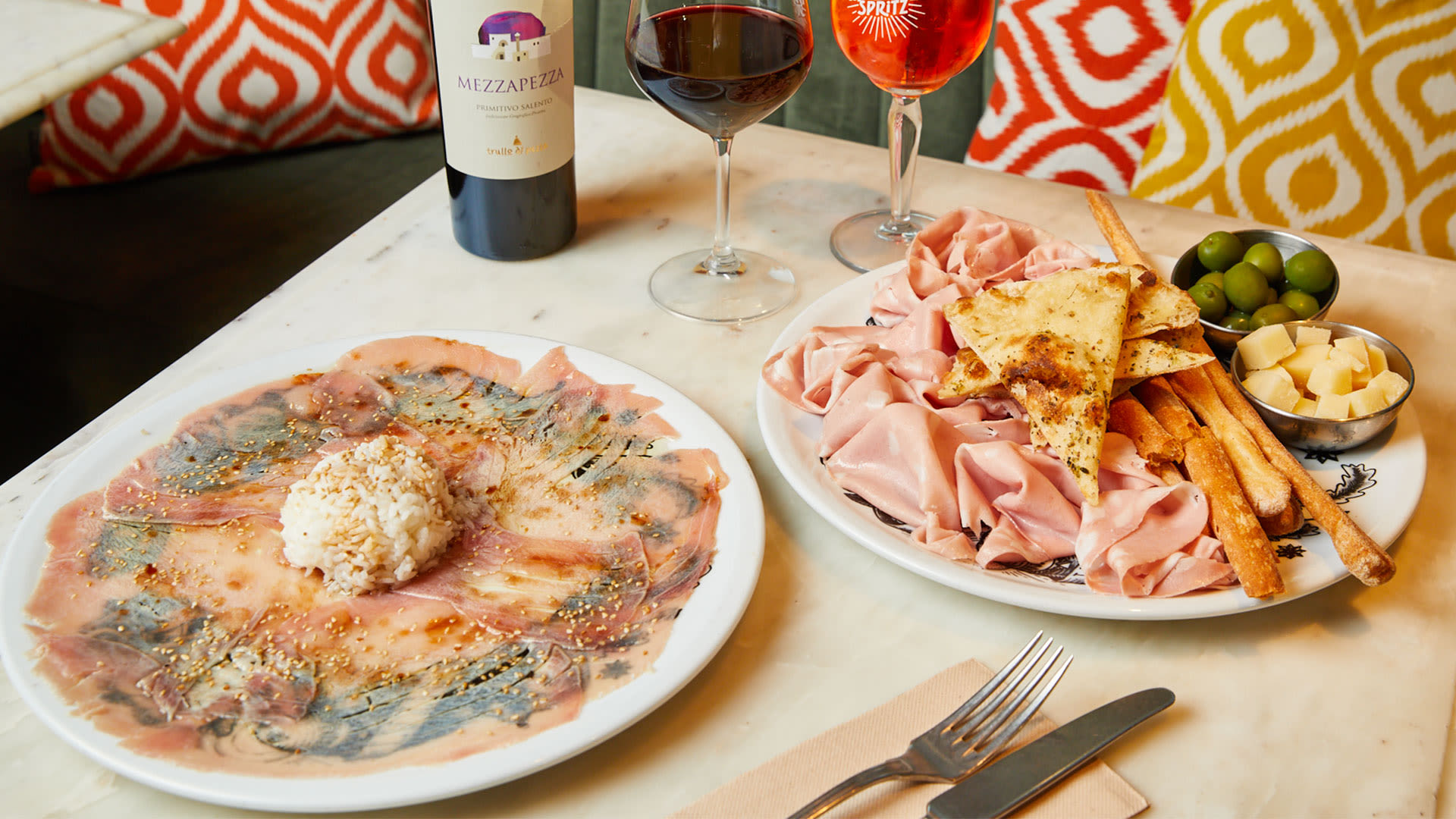 Aperol or Crodino Spritz paired with Mortadella

Next, Falgueras recommends pairing two of the most internationally-known bitter aperitifs, Aperol (alcoholic) and Crodino (non-alcoholic), with Corso Iluzione's mortadella, parmesan olives and other Italian delicacies for a traditional yet punchy flavour duo.
Mezzapezza red wine paired with tuna tartare

Another tantalising palate pleaser comes from the intensely smooth Salento Primitivo, which, with its spicy floral notes, is the ideal complement to this more subdued tartare with rice.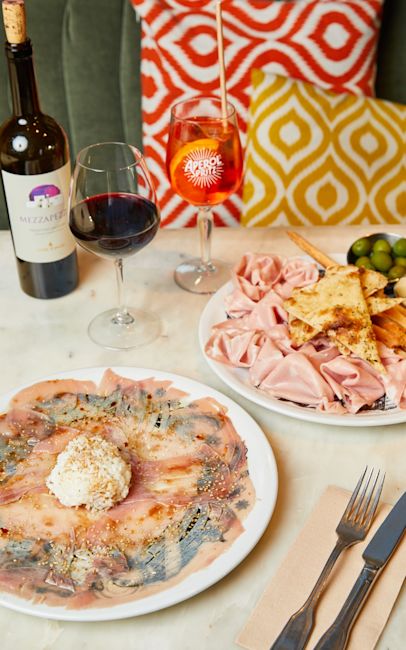 Discover our restaurants
Choose from a range of palate-pleasing options to suit your every want and need.
See all restaurants
05
A re-energising coupling at Flax & Kale
Orange Fantasy Kombucha paired with Teresa's Favorite Kale Salad

According to Falgueras, "the cider-like reminiscence of this fermented tea makes it the ideal pairing for a refreshing salad," which itself features subtle spicy notes of Flax & Kale's chipotle vinaigrette.
Flax & Kale's own white wine paired with Crunchy Yellowfin Tacos

"The citrusy aromas of this organic wine from the DO Penedes combines seamlessly with the marinated tuna and crunchy shell of the tacos, whilst adding a delicate nod to the coriander notes," she adds.
06
Robust and savoury goodness at Fire & Bread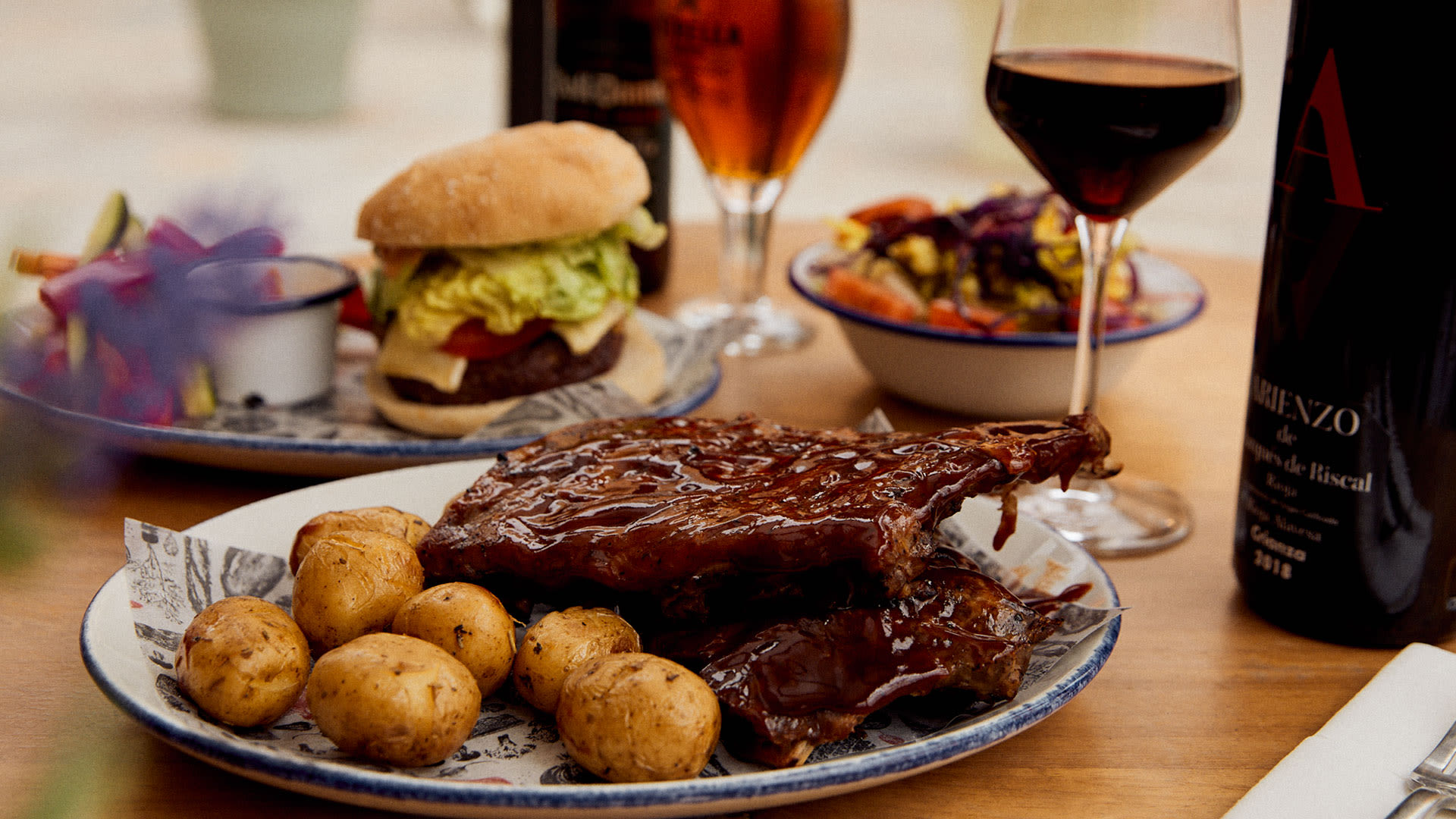 Voll-Damm Beer paired with a hamburger

Falgueras may be a wine sommelier by trade, but she's also a beer connoisseur at heart. So, she recommends pairing the Marzen-style lager (with its high alcohol content and tobacco-esque aromas) with Fire & Bread's traditional-style hamburger for rich, savoury indulgence.
Arienzo de Marqués de Riscal red wine paired with pork ribs

"Here, we have the toasted notes of the fermenting barrel together with the red fruit from the wine, impeccably combined with the sweet and sour sauce of the ribs," Falgueras explains. A true sensory experience.
07
Tradition meets umami at Mori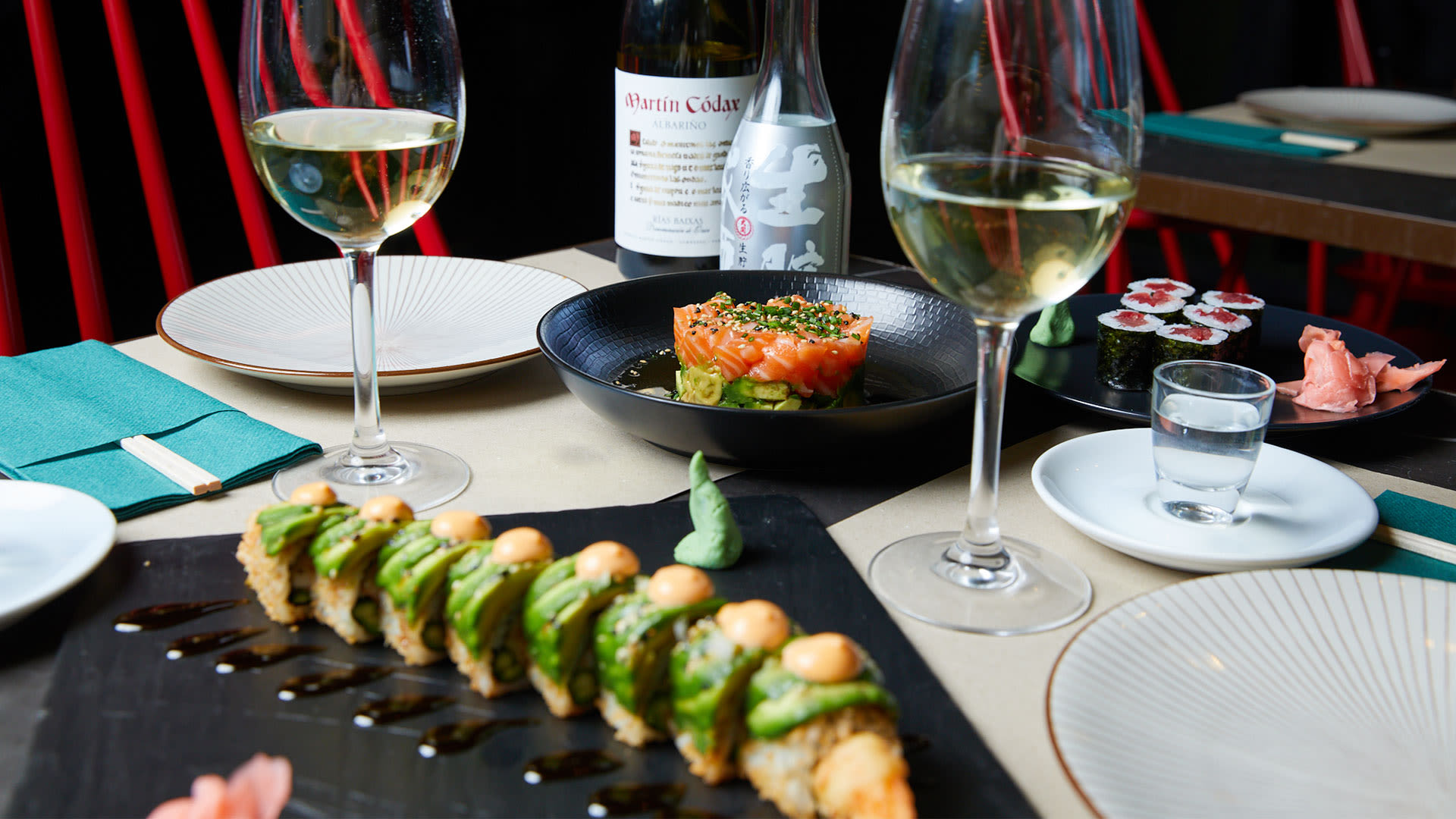 Namachozo sake paired with sushi

"The softness of the rice-based alcoholic drink on Mori's menu combines beautifully with the umami flavourings of traditional Japanese cuisine," the wine journalist says.
Martin Codax white wine paired with salmon tartare

According to Falgueras, "this Albariño wine has a vertical acidity and an aftertaste full of white flowers that intensifies the aroma of the salmon and its texture." A delicate yet aromatic palate pleaser.
08
Indulgent delights at FARGGI 1957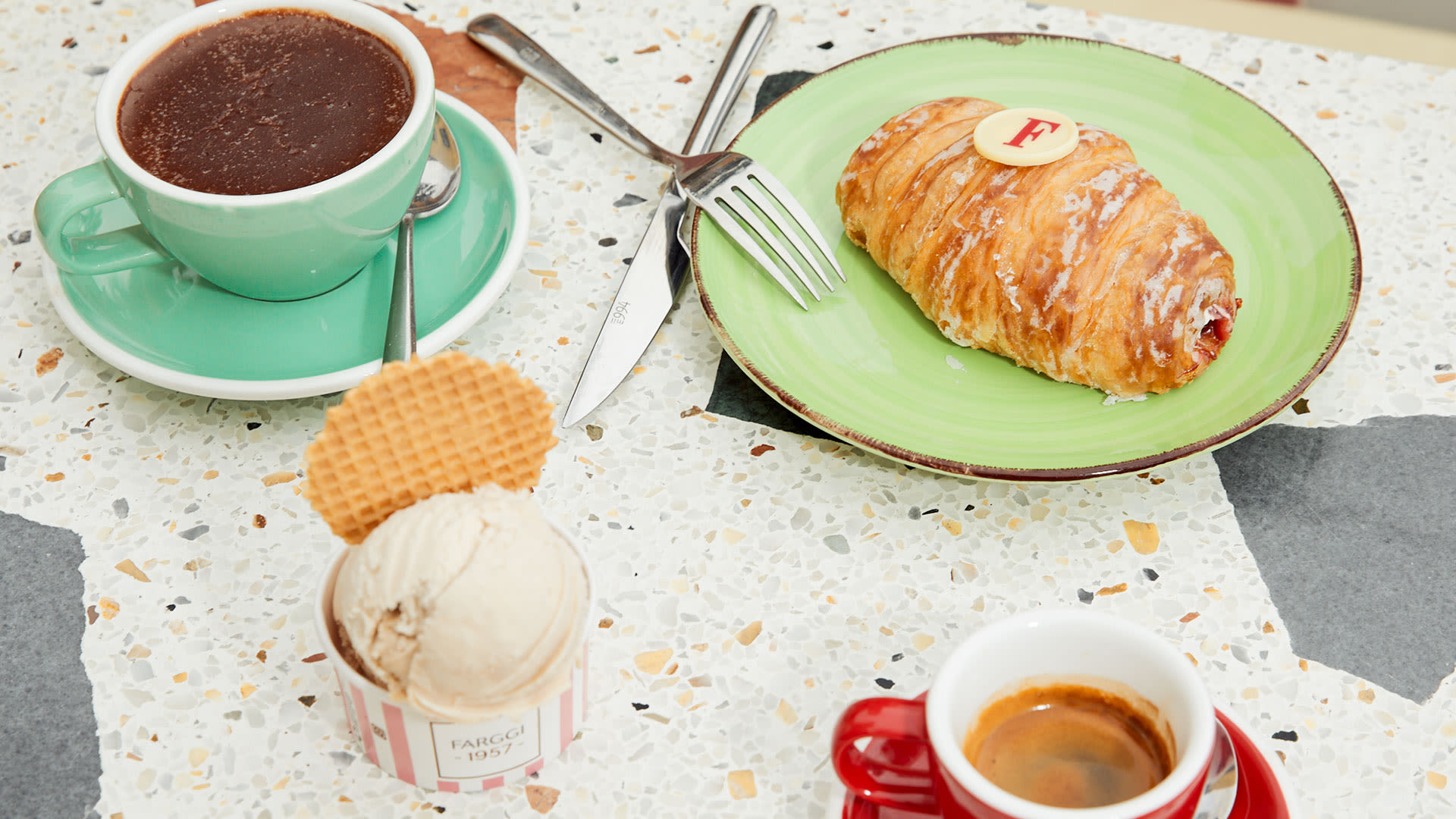 Hot chocolate paired with Nocilla ice cream

According to Falgueras, "the creamy hot chocolate's cocoa aroma warms the mouth, but when paired with the contrasting temperature of the hazelnut ice cream, you have yourself an explosive sweet treat."
Espresso paired with mascarpone croissant

"This marriage from FARGGI 1957 is pure utopia," Falgueras says. "The Italian roasted coffee with its deliciously long aftertaste calls for the creaminess of the mascarpone which can be found in this international sweet treat."
更多赏味灵感
罗卡购物村为您精心准备了一系列美食灵感故事及美味菜谱,佳肴在目, 珍馐入口。