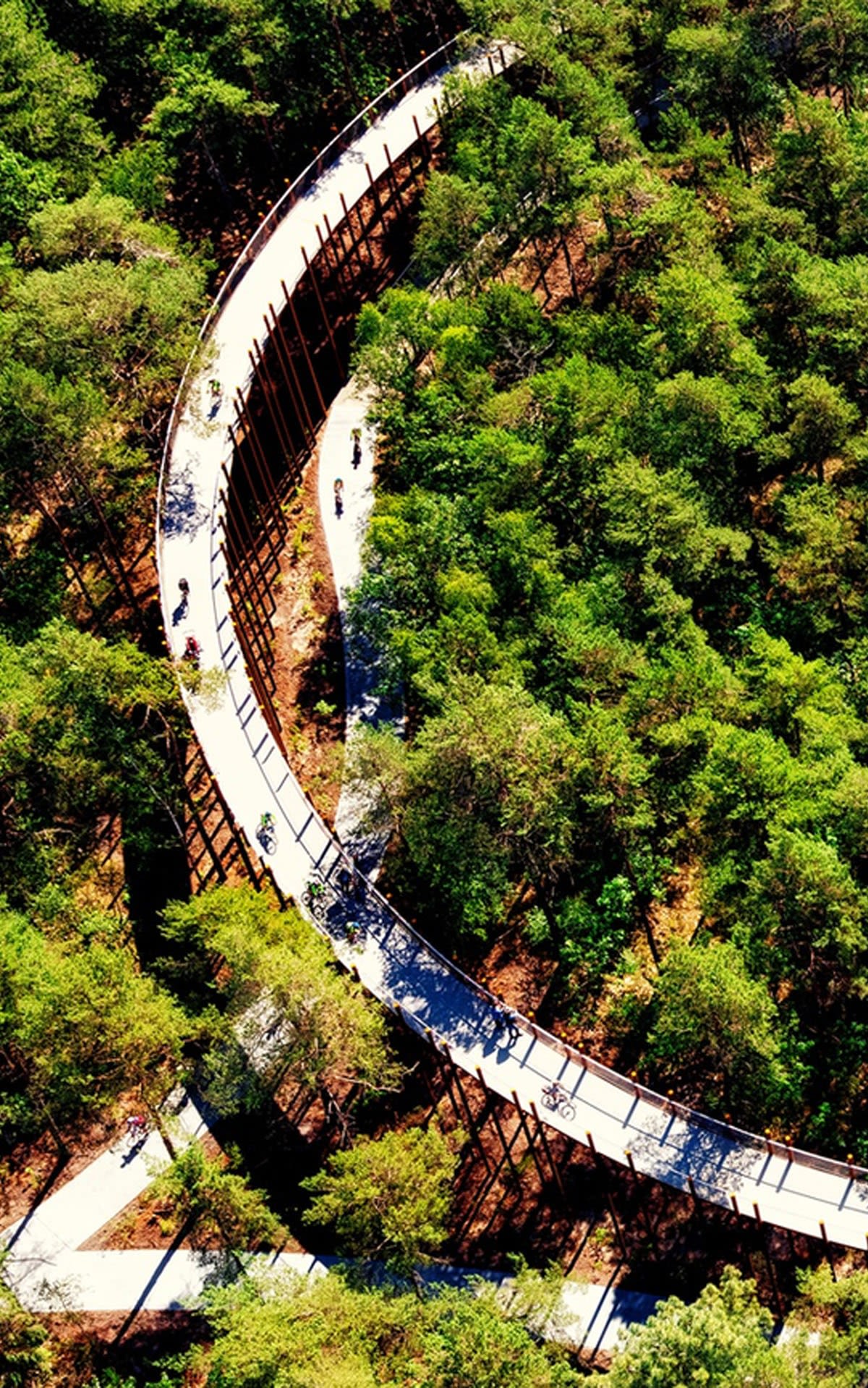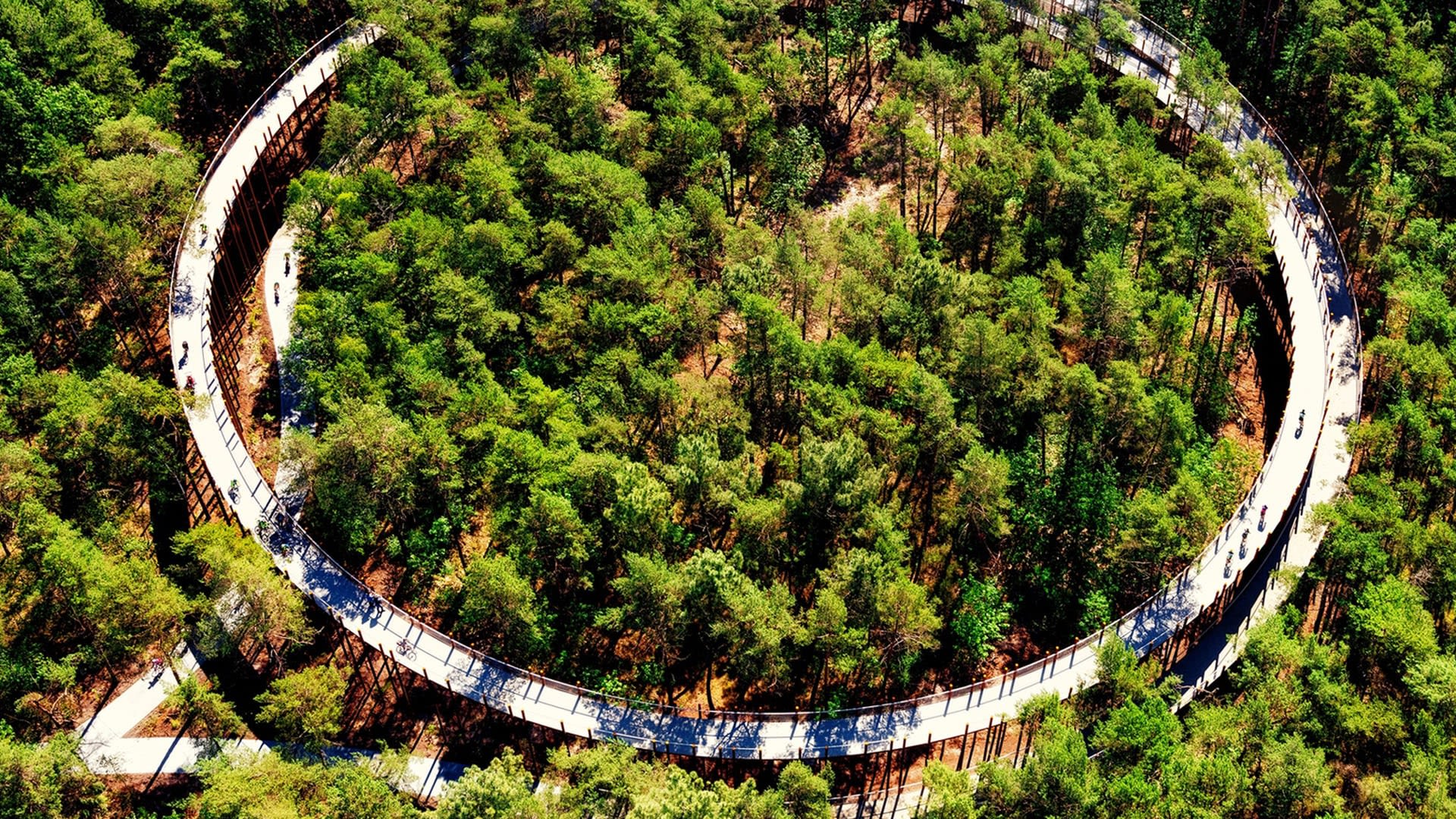 Near Maasmechelen Village
Cycling in Limburg
01
Cycling through the water in Bokrijk
This world-famous cycling path at junction 91 takes you right to the water's edge. Ride from one bank of the pond to the other through a designated cycle path and admire the wildlife at eye level on both sides.

Discover this special route at Bokrijk, a beautiful open-air museum at just a 25-minute drive from Maasmechelen Village.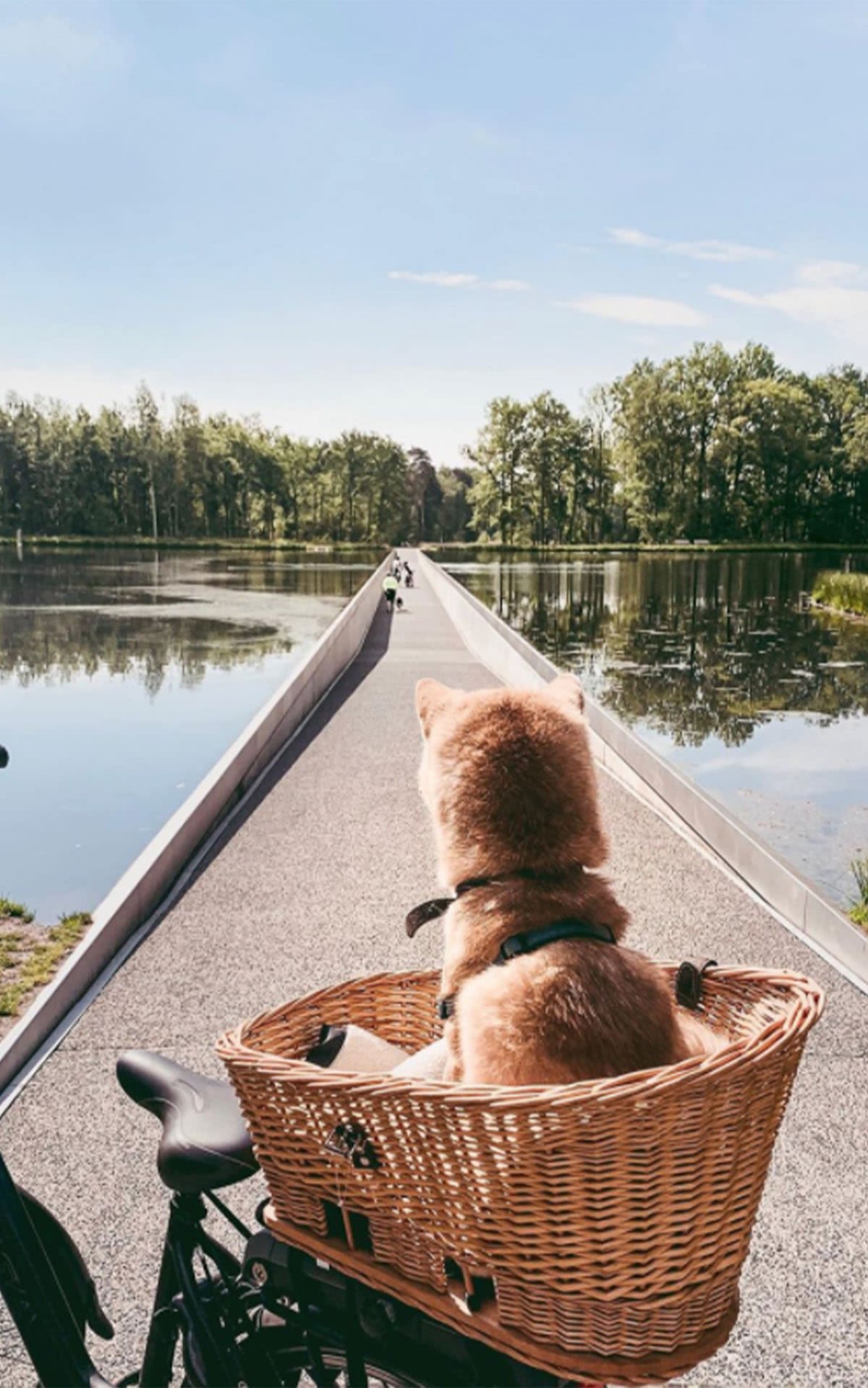 02
Cycling through the trees in Bosland
Follow the spectacular cycling bridge at junction 272 all the way into the treetops with this unique bike riding experience in nature. The route's double-circle cycling path will take you up to 10 metres above ground level.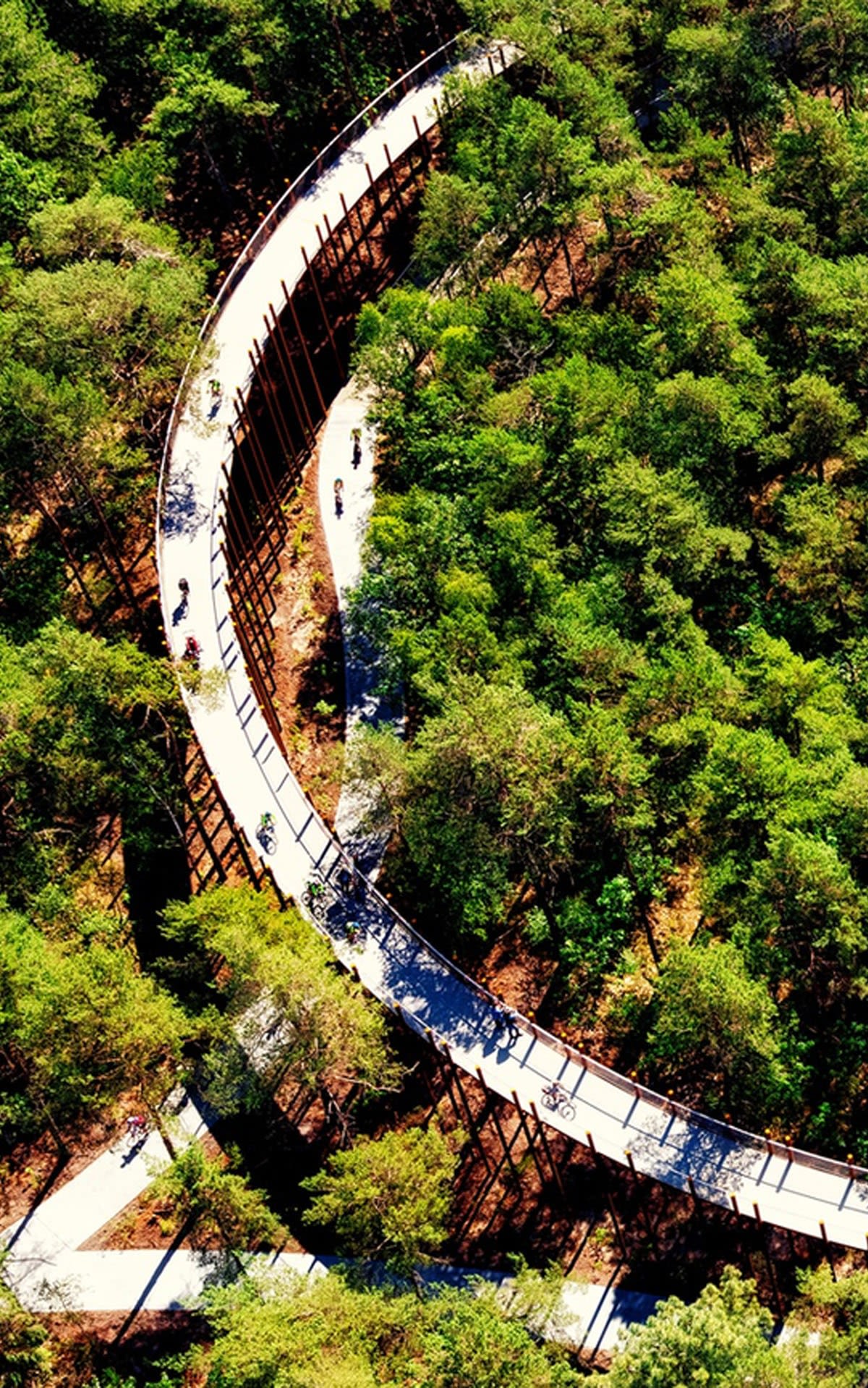 03
Cycling through the heathland in Hoge Kempen
Soak up the beautiful views of the Mechelse Heide on this brand-new route between junctions 550 and 551. Don't miss the breath-taking view from the cycling bridge, overlooking Hoge Kempen National Park. This route is especially beautiful in August, when the heathland is in full bloom.
For a more traditional cycling experience, enjoy a journey to one of the following destinations.
04
Cycling through Hoge Kempen
Belgium's only national park, Hoge Kempen, is located just next to the Village. Thanks to its fresh and shady forest climate, the park is the perfect place to get lost in nature. Immerse yourself in the region's lush greenery by biking gate to gate or, for the most rewarding views, take on some of its steeper hills. Start from Station As at junction 41.
Just half an hour from Maasmechelen Village sits the enchanting region of Haspengouw – a place renowned for its sloping landscape and vast range of fruit trees. This popular spot attracts visitors from all over the globe, especially during the blossom season in April and harvest in September. While cycling through Haspengouw, be sure to stop by 'Reading between the lines', the see-through church, and Helsheaven, the floating chapel, to capture some Instagram-worthy content.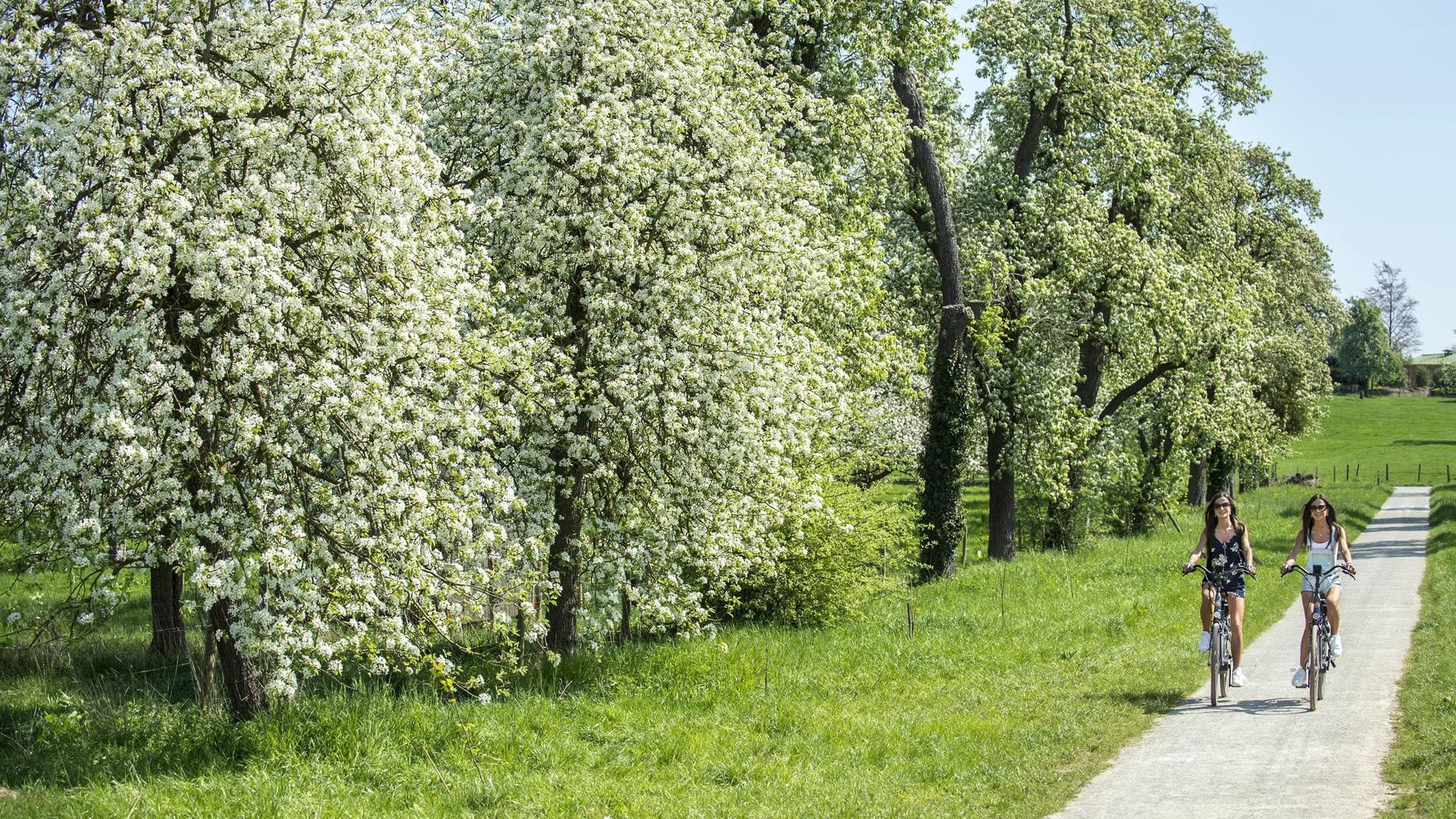 06
Cycling along the Meuse River
Close to the Village, right on the border between Belgium and the Netherlands, you'll find the river Meuse – nature's very own guide for your cross-border cycling journey. Cross the river by boarding one of the region's many bicycle ferries and stop by the beautiful Meuse Valley River Park for a chance to spot some wild Galloway cattle or Konik horses on the waterfront.
Explore Limburg by bike
Whether you're starting out, stopping off or ending your two-wheeled adventure at Maasmechelen Village, be sure to combine your bike ride with a trip to the Village. Complimentary bike parking is available next to the entrances.
Photos Connecterra (header), Het Kruinenpad en National Parc Hoge Kempen, MaasVallei, Verborgen Moois en Voeren © Visit Limburg
Photo Haspengouw @the.final.result
Photo Reading Between the Lines ©michielpieters
Photo Bokrijk ©fien.depaepe

Be inspired
Our round-up of the latest in style, travel, culture and cuisine.