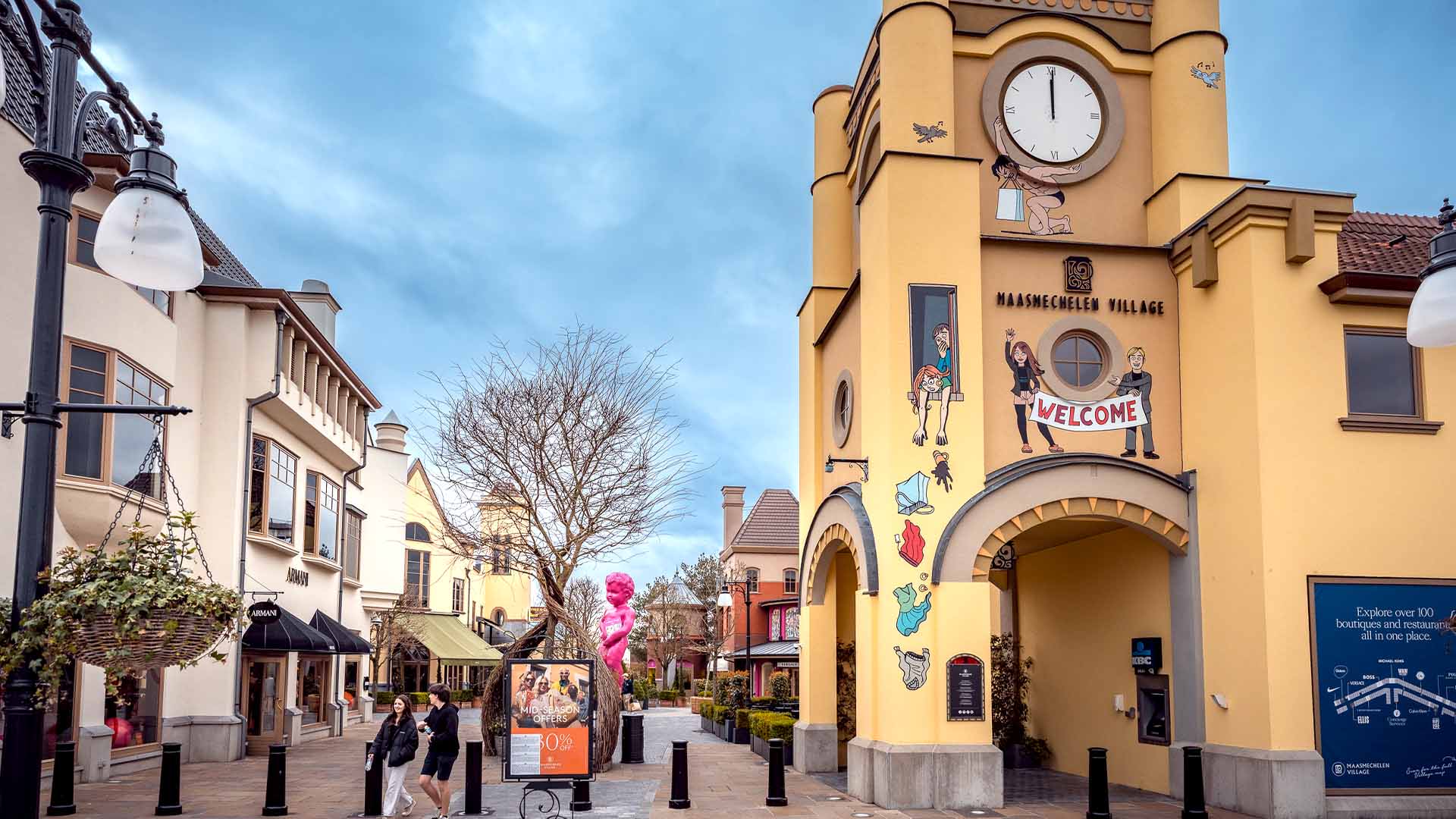 A Cartoon Village by Kim Duchateau
Maasmechelen Village often collaborates with upcoming and high-profile Belgian artists for pop-ups and art installations throughout the Village. For a brand-new Village takeover, artist Kim Duchateau has now taken over the Village with a series of never-before-seen artworks. The renowned Flemish comic and cartoon illustrator is known for his nonsensical and idiosyncratic sense of humour – in Belgium and beyond. To celebrate our cartoon heritage, he adorned the Village facades, shop windows and boulevard with his take on the Maasmechelen Village experience.
02
Celebrating Belgian cartoon culture
Belgium: the country of fries, chocolates – and cartoons! With their world-class illustrations, rich history, and sharp-witted sense of humour, comic books and cartoons truly encompass the creativity and quirkiness of Belgium as a nation. Plus: with over 700 artists active today, Belgium is home to the highest density of comic and cartoon creators in the world!
"Cartoons are quintessentially Belgian," says takeover artist Kim Duchateau. "We have a lot of good artists, and we live in a country where we can literally make fun of everything – from ministers to the king. Plus: we are the country of Magritte, and our daily reality feels surreal on a variety of levels."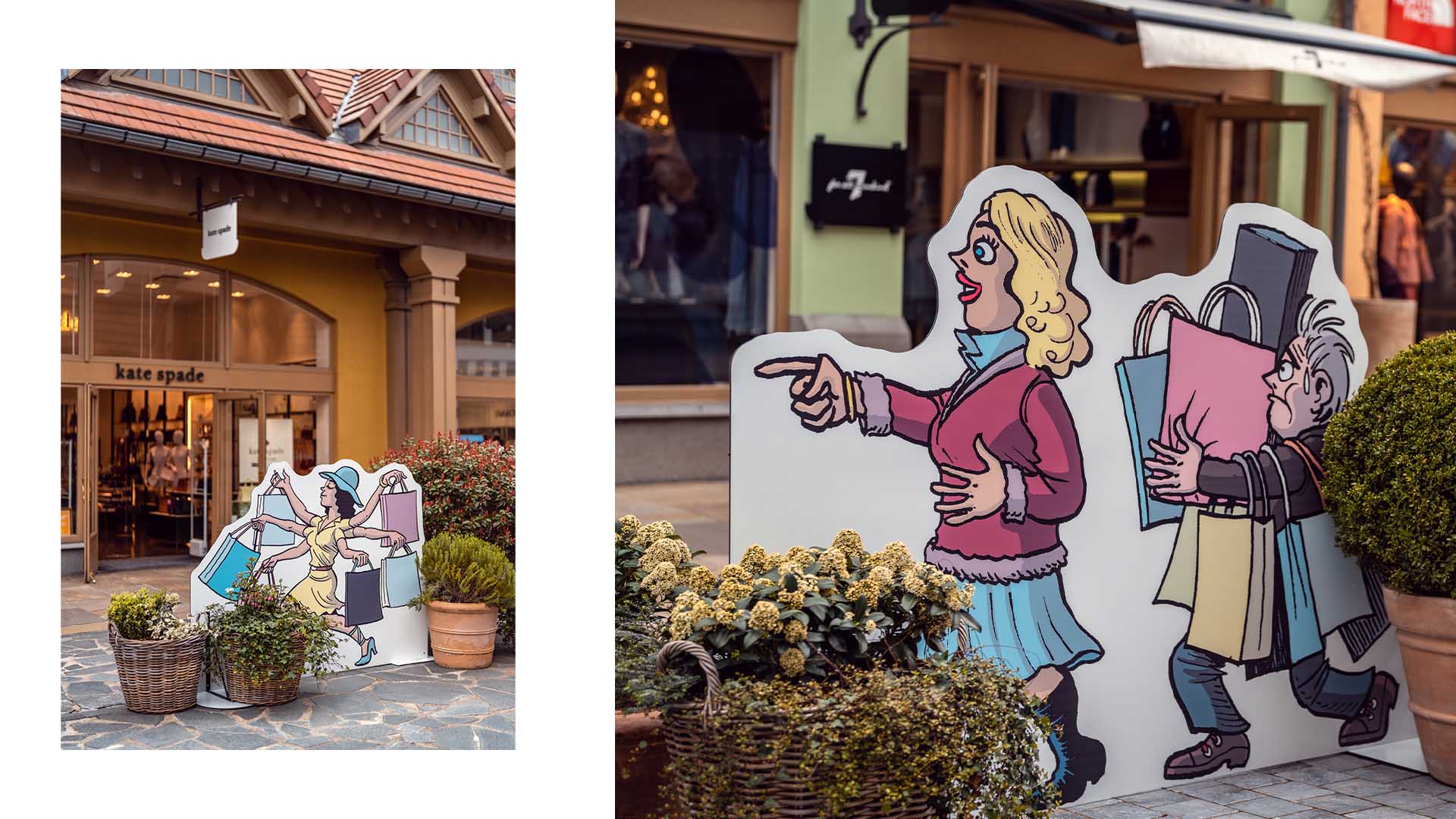 I think it's our Belgian je m'en fous attitude and absurdism that makes our comics and cartoons so popular around the world.
03
Where shopping meets the absurd
The brand-new artwork for Duchateau's Village takeover was based on a combination of his love for the absurd and fun, quirky elements in the Village experience. "It was fun to look for the bizarre or funny in the context of shopping. Imagine fun little details like someone with too many shopping bags in a wheelbarrow, or a gigantic crowd drawing where you have to 'Where's Wally' your way to Manneken Pis. Larger drawings like these are a great opportunity to incorporate lots of little jokes and fun elements."
The cartoon takeover by Kim Duchateau perfectly fits the Village's ambition to showcase local talent with international allure and to actively spotlight the country's most iconic artforms. We have a proud tradition of celebrating all things Belgian at Maasmechelen Village. With this Village takeover by Kim Duchateau, we feel like we've unlocked a wonderful new aspect of Belgian culture for our guests to dive into, all while enjoying a relaxing and fun day out.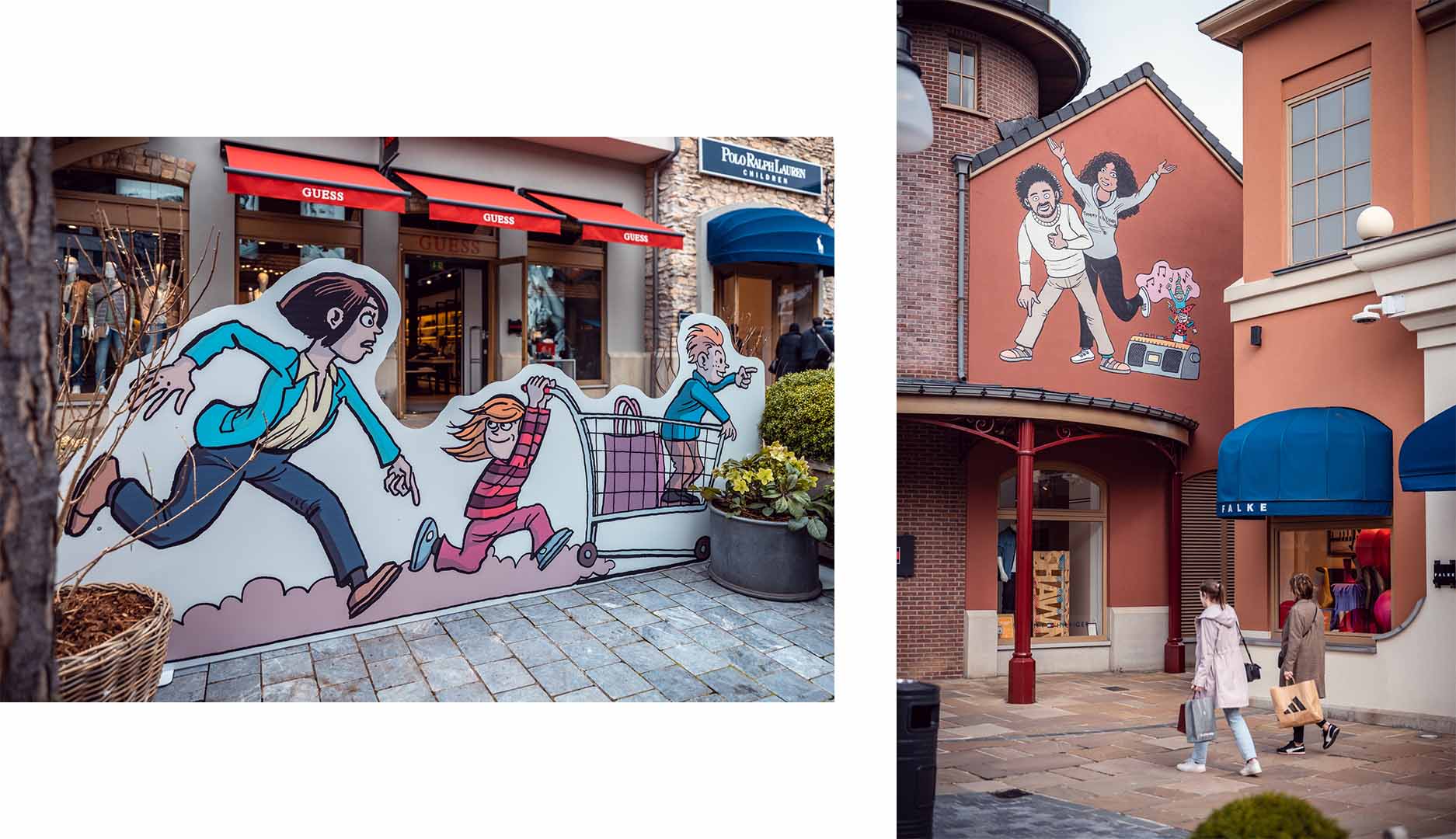 Until 4 June, explore seven never-before-seen comic walls, eight custom cardboard installations, and brand-new art by Kim Duchateau. Planning a fun getaway with kids? Dive into Belgian cartoon culture with our Manneken Pis treasure hunt, a placemat colouring game, a limited-edition drawing workshop with Kim Duchateau, fun photo opportunities throughout the Village, and more exciting activities for the entire family!
So many reasons to visit
Stopping by for our new Village takeover? Make the most of your day: shop new spring essentials at over 100 boutiques from top international brands, enjoy a well-deserved break at four elegant restaurants, and hike the country's only National Park within walking distance of the Village.
PLAN YOUR VISIT >